2014 Java and Jazz
Our next event is the Annual Java & Jazz! This FREE event will be held on Sunday, March 9th from 3pm to 5pm at the Cape St. Claire Clubhouse- 1223 River Bay Rd. Annapolis, MD 21409.
We invite you to enjoy hot coffee, tea & cocoa and sweet and savory appetizers while listening to smooth Jazz. Entertainment will be provided by the Jazz Perpetrators.
Goshen items will be for sale and there will be displays on the history of the property.
See how far we have come as we strive to preserve and protect this historic farm house and 22 acres of open space. Donations are welcome!
Be a part of local history!!
Centuries of Local History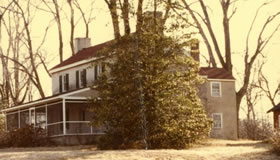 The land called Goshen Farm originally consisted of 290 acres and was patented as Leonard's Neck in 1663.  This farm is a very important part of the history of Cape St. Claire, the Broadneck Peninsula and Anne Arundel County. This property is located behind the Cape St. Claire Elementary School and is one of the few examples left of a Colonial farm in the county. Read More
The Farmhouse and Outbuildings
Many buildings have existed over the years on the farm. Some still remain, but several no longer exist. Each of the buildings on the Goshen Farm have their own history serve as a link to our past. The remaining buildings have stood the test of time and need to be preserved for generations to come. Read More
Photos Through the Years
View various galleries of photos taken through out the years. Some photos are historic and date back several decades and include buildings that no longer exist. Other photos are of the Goshen Farm Preservation Society's efforts to restore the property and raise funds and awareness throughout the community. Read More